Beyond Beauty featured in Bolton News for the Shrinking Violet Wrap Treatment. Click to read the article.
The Shrinking Violet Wrap
DO YOU WANT TO LOOSE A DRESS SIZE IN ONE TREATMENT, WHICH IS:
PAIN FREE, NON INVASIVE AND WITHOUT EFFORT
THEN YOU ARE ON THE RIGHT PAGE
Shrinking violet body wrap is a painless, effortless process that can successfully remove fat in problem areas such as thighs, buttocks, abdomen and arms.

The active ingredient is hydrolysed lecithin which changes the permeability of the fat cell wall, which allows intra cellular fat to be released and used by the body as an energy source and excreted via the lymphatic system, therefore providing powerful inch loss results. The left picture below is before the Shrinking Violet treatment and the right picture is after the treatment.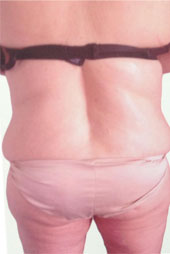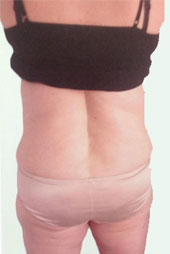 BOOK NOW & Get Any One Of The Following Treatments For FREE

Environ Taster Facial & Indian Head Massage
LVL lashes
HD Brows, Hand & Foot massage



| | |
| --- | --- |
| Shrinking Violet Treatment | £60.00 |
Questions and Answers
How does it work?
Shrinking violet body wrap is a painless, effortless process that can successfully remove fat from stubborn areas such as thighs, buttocks and abdomen.


How long does it take? When can I see the results?
Shrinking violet body wrap is a technique that is so powerful, that a sixty minute treatment can shrink waistlines up to two inches, the amount of fat reduction varies on your build, but many people may reduce one whole size after one treatment. Immediate results can be seen but after 24hrs you will see maximum effect.


What does it feel like?
You are wrapped up squeezed and it itches a bit.


Are there any side effects?
Slight increase in urination for one to two days after treatment.


Will the results last?
Shrinking violet is an excellent jump start to a new and slimmer you. For the fat to come back, new cells need to be formed that would happen if a person continued to eat excess calories. Combine shrinking violet with healthy eating and exercise for optimum results.


How often can I have the treatment?
Problem areas can be treated every seven days.


How many sessions will I need?
It depends, most clients require maintenance treatments once or twice a year after the initial course of right treatments.


Aftercare advice
Do not shower or bathe for 12hrs, and after 24hrs wash only lightly. This helps the solution to remain in the skin and give the best results possible.


The treatment can continue to work for 72 hours, during this time you must remain hydrated by drinking at least 8 glasses of water (2 Ltr ) per 24hours.


Eat lightly over the next 24hrs and completely avoid alcohol, caffeine and tobacco. This will give the liver the opportunity to work effectively to remove from the body what has been removed from the fat cells during the treatment.


We recommend judging your inch loss over the next 72hrs at home by the fit of your clothing.


Spray tan can be used 48hrs after a wrap.


Shrinking Violet is NOT suitable for those who have any one of the below conditions:
Blood pressure problems
Soya Bean Intolerance
Pregnant women (have to wait 6 months after giving birth)
Breast feeding (wait until 3 months after stopping)
History of blood clots
Chemotherapy/Radiotherapy
Skin Diseases
Claustrophobia
If you have had surgery within 6 months
Thyroid problems
Diabetes
Asthmatic