Jane Iredale Mineral Make Up
"Make up that cares for your skin"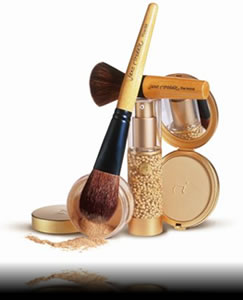 One of the most technically advanced make-up lines in the world. So effective it is:
recommended by plastic surgeons, dermatologists and skincare professionals and worn by celebraties such as Angelina Jolie, Danni Minogoue, Paris Hilton, Sandra Bullock, Julia Roberts, Vitoria Beckham and many more.
Minerals allow the skin to breathe and function normally, making them ideal for everyone but especially for those with problem skins. The way minerals interact with light allows them to create a soft focus effect without looking heavy or caked. Mineral cosmetics are non-irratating, feel weightless and last for longer than traditional make-up.

Jane Iredale mineral foundations provide flawless, 'barely there' coverage while promoting healthy skin. Popular with performers, celebraties and make-up artist.
The bases act as a four-in-one product: concealer, foundation, powder and sunscreen, with natural SPF 15-20. Fast, weightless, water-resistant coverage for all skin types - even the most sensitive or blemished complexions.
Free from dyes, perfumes and fillers
Bases have calming, anti-inflammatory properties with minimum allergy risk - making them ideal for acne and rosacea sufferers.
So gentle, that it can be applied immediately after facials, waxing, micro-dermabrasion and laser re-surfacing.
Jane Iredale mineral makeup is recommended by the skin cancer foundation
Acne/ problematic skin
These amazing products can reduce the risk of skin cancer from over exposure to sunlight. They are also an effective aid in the prevention of sun-induced damage to the skin including sunburn and premature aging.

The skin cancer foundation recommends Purepressed Base, Dream Tint, Lip Drink, Powder-Me SPF and Amazing Base as effective UV sunscreens.

Please ring in the salon for further details.