Jessica Pedicure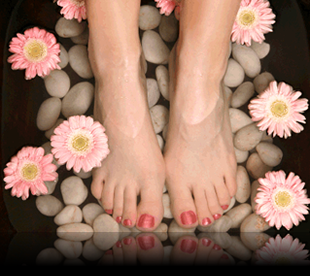 Jessica Spa Pedicure
Sit back and relax whilst your feet are soaked in a therapeutic blend of essential oils to revive, refresh and stimulate tired and aching feet. This luxury foot and lower leg treatment has all the benefits of, a file and polish, foot soak, cuticle tidy, hard skin removal and exfoliation followed by a foot massage and a polish of your choice.
Jessica Spa Pedicure
£20.00
Jessica Spa Pedicure with French Polish
£23.00
Jessica Deluxe Spa Pedicure
This treatment combines the Jessica Spa Pedicure with the added luxurious experience and benefit of a mask which is then incorporated with the heated mitts giving you a warming and moisturising effect on the skin. This warming and conditioning treatment also increases blood circulation and helps to relieve any aches and pains. This is then followed by a foot massage using aromatherapy based products for softer and smoother feet. To finish off, a beautiful polish of your choice is then applied.
Jessica Deluxe Spa Pedicure
£30.00
Jessica Deluxe Spa Pedicure With French Polish
£33.00
Regular Foot Care
This Jessica treatment includes shaping the natural nails, brush cleansing, a treatment basecoat and a luxury Jessica polish.
Jessica File and Coloured Polish
£8.50
Jessica File and French Polish
£11.50
Add Jessica GELeration polish to any of the above for a extra £10. Click to view details of Jessica GELeration