Environ Skin Care
"Healthy, good-looking skin for a lifetime"


---
Click on the links below to jump to a section:
Company History
Products
Active Ingredients

---
The Company History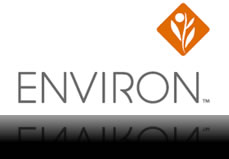 Since ancient times, mankind has attempted to make cosmetics to improve the skin and to hide the visible effects of ageing. The truth is that, for the most part, cosmetic creams remained simple old-fashioned moisturisers offering "Dreams of Youthful Skin" often without real results.

The introduction of vitamin A into the formulation of skin care products heralded a new era in the treatment of sun-damaged skin. Although some cosmetic houses were using very low doses of vitamin A in their skin care products in the 1980s, Dr Des Fernandes, a prominent Cape Town plastic surgeon, was the first person in the world to introduce vitamin A in high effective doses. This range established Environ as a leader in skin care.

The Environ skin care range was first formulated as a result of Dr Fernandes' misfortune when he attempted to treat the melanoma of two young, charismatic patients, who both died before they were twenty-three years old. Such a horrifying experience leaves an indelible scar on one's life as a doctor. For this reason, he started to study the mechanism of skin cancer and the skin - and thus Environ was born.

The cosmetic manufacturing company, Environ Skin Care (Pty) Ltd., was founded by Dr Fernandes in 1990 and he soon expanded its number of products into a full skin care range. Environ skin care products are manufactured under strictly controlled laboratory conditions at the Environ factory in Cape Town, South Africa.

The Company is a family run business and as such is one of the very few major skin care products that is manufactured and marketed by the same company. Founder, Dr Fernandes has specialised in the field of plastic surgery in which he has gained the respect of his international peers. After a long career in the commercial world, Dr Fernandes' sister, Val Carstens, joined her brother at Environ Skin Care (Pty) Ltd. as its CEO, bringing with her a wealth of business experience that she has used to engineer and build Environ into the company it is today.

Environ now has an extensive distribution network throughout South Africa and exports to more than sixty countries worldwide.


The Products
Environ skin care products are intended for use on all skin types, on people of all ages and for both genders. The products are only manufactured from the highest quality ingredients and fresh, active vitamins. They are hypo- allergenic and colourant free. Preservatives and fragrance are only used when necessary. All environ skin care products are tested only by human volunteers.

Environ range is a step up system, it is a cosmeceutical range which means both pharmaceutical and medical science has been used in formulating the product. Environ was founded by dr Fernandes who is the worlds renowed plastic and reconstructive surgeon.


Ageing is a chronic disease that needs daily treatment starting before the visible signs show, after all prevention is better than cure. As we get older, more intensive treatment is required. Daily treatment using the Environ range will help reduce and delay the signs of photo ageing.
These products contain high levels of vitamin A which helps to maintain skin youthfulness, prevents photo-ageing and fine lines and wrinkles, it normalises skin cells which repairs damaged cells and minimises the risk of skin cancer. Photo ageing is due to not enough collagen been made this is because there is a lack of vitamin A and C.

It's a step up system from 1-5 working on low levels of vitamin A working up to high levels of vitamin A. This is so the skin can acclimatise to the active ingredients in the products. It's a results driven range which will give you the results that you desire. It is used by plastic surgeons, dermatologists and nutritionalists as well as G.PS and beauty therapist.


Active ingredients
The environ range is effective because it incorporates the most important vitamins, antioxidants and treatment systems to counteract the visible signs of ageing.

The environ range is Effective for the face and body, the Environ range incorporates a multi-pronged attack against the visible signs of aging, problem skin and photo damaged skin.


Vitamin A
Vitamin A is the "skin vitamin" essential to all skin care regimens. It is used in the form of retinyl palmitate, retinyl acetate, retinol and beta-carotene. As the skin "normalizer," it helps to prevent and reverse established photo-aging by improving hydration, helping to form new collagen and elastin, decreasing pigmentation and regenerating new healthy skin cells. One must first acclimate the skin to the lower levels of vitamin A before moving on to the higher dose products.


Vitamin C
Environ has pioneered the use of stabilised and highly effective forms of vitamin c.

Vitamin c is a free radical scavenger, helps to play an important role in the formation of collagen to treat laxity and effectively facilitates the reduction of pigmentation.


Antioxidants
Free radical scavengers in the form of natural antioxidant vitamins C, E, B5, beta-carotene and plant extracts such as resveratrol and green tea counteract damage caused by free radicals.


Peptides
Polypeptides such as Dermaxyl®, Matrixyl® and Argireline® have been scientifically proven to be effective in assisting to reduce the appearance of wrinkles. Working in synergy with vitamins A, C and E, they help to increase collagen and elastin production and moisture content in the cellular matrix.


Peptides
Polypeptides such as Dermaxyl®, Matrixyl® and Argireline® have been scientifically proven to be effective in assisting to reduce the appearance of wrinkles. Working in synergy with vitamins A, C and E, they help to increase collagen and elastin production and moisture content in the cellular matrix.


MSH™
Helps to control the formation and dispersion of melanin to assist with pigmentation.


Suncare
UVA and UVB absorbent sun filters, an effective reflectant sunscreen, titanium dioxide and antioxidant vitamins are used for protection from the effects of the sun.


Panthenol
Pro-vitamin B5 is used to boost the waterproof barrier of the skin, assist in controlling free radicals and reduce the chances of follicular obstruction.


Growth Factors
Growth factors help to stimulate the skin into a higher degree of response and rejuvenation by producing greater volumes of collagen and elastin, and promoting normal growth of cells.


AHAs and BHAs
Alpha and beta hydroxy acids help to minimize the signs of aging by removing excess horny layer build up, smoothing skin and allowing easier penetration of active ingredients