Hair Extension Fitting Service
"Long hair is the key ingredient to looking and feeling more confident and sexier than you ever thought you could"
Remy AAA Grade Hair Extensions
We pride ourselves on quality and perfection using the finest grade in Remy 100% human hair extensions.

Remy Hair which is the highest and finest premium grade of real human hair due to the simple fact that the cuticles are kept intact and not stripped ensuring that the hair remains:
Super soft, shiny, silky and completley tangle free throughout it's lifetime
Remy hair can be dyed, heated, curled or straightened, styled washed and treated like your own natural hair giving your hair a healthier appearance
Remy hair does not mat or tangle because all the cuticles are aligned and intact without the use of silicone and not stripping the cuticle
Non Remy Hair:
The hair is coated with silicone which produces a false temporary shine which washes away after a few washes, causing the "Horse Hair" effect - dry, brittle and lifeless hair
The cuticles of the hair are stripped, causing the hair to tangle and mat which makes it very difficult to style
Applying heat to non remy hair will dry and damage the condition of the hair resulting in a very unhealthy appearance
Non remy hair is mixed in with synthetic hair which does not last as long as human hair making it more difficult to sytle and blend with your natural hair
Micro Rings
These light weight almost undetected metal rings are applied to your own hair, the hair extension is then clamped tightly inside the ring holding it securely to your natural hair.

This is a cold method which means No Glue, Heat and Chemicals of any sort. No Mess and No Fuss. You can wash, blow dry and style your hair as normal.

Micro Rings are suitable for anyone who's looking for Thicker, Fuller, Longer Hair with Volume and Bounce, or simply to Add a Bit of Funk with Highlights.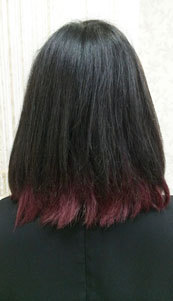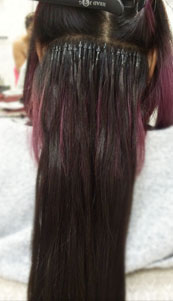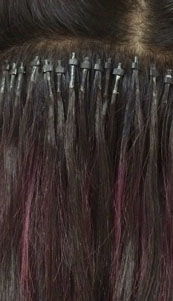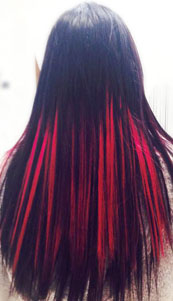 Pre Bonding Extensions
The hair comes pre bonded in individual strands with a protein based substance on the root called keratin that is then attached to individual hair strands of your own at the root, with heat the bond cools rapidly after melting to secure the extension to the hair.

The extensions last around 3 months if not longer with regular maintenance every 6-8 weeks, we advise when the extensions are due to come out, the extensions has to be removed by us to ensure there is no damage to your natural hair and no residue is left behind after removal.


Microbeaded Weft Extensions
Microbead weft consists of a long weft. Which is made to measure for individual head size. We then secure each track in between sections of hair with micro beads about half a inch apart. The benefit of this type of installation is that there is no heat or glue. This is a hair extension weave that doesn't have to be "weaved" in. Microbead wefts are easy to apply and remove. This a safe technique compared to the sew in weave. The track will not pull your hair or cause damage like a traditional weave, so it's safe and easy alternative. When you're natural hair grows out, the tracks can be removed and again be re-installed.


| | |
| --- | --- |
| Micro Rings | P.O.C |
| Bonding | P.O.C |
| Microbeaded Weft | P.O.C |
If you don't fancy getting hair extensions fitted but would still like the luxury of extra length, thickness etc then you could try our self application hair extensions. We sell a wide range of high qaulity human hair extensions, click for more information.