Crystal Clear Microdermabrasion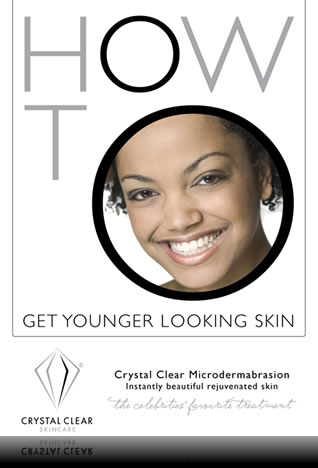 A string of celebrity fans has generated significant public awareness and media coverage of Crystal Clear's product range and treatment and has now reinforced its position as 'the celebrities' favourite treatment!
Used by Victoria Beckham, Paris Hilton, Madonna and many more!
For fresh, rejuvenated skin Crystal Clear Microdermabrasion is the ideal way to smooth and polish your way to perfection!
Microdermabrasion
It is a gentle treatment that deeply exfoliates the skin while stimulates and increases collagen production. It removes dead skin cells that lay on the surface of the skin as well as treating the appearance of fine lines and wrinkles, acne scarring, sun damaged skin and pigmentation. It includes hand and arm massage.
| | |
| --- | --- |
| Microdermabrasion | From £35.00 |
Deluxe Microdermabrasion
The ultimate in skin rejuvenation, perfect for lines, wrinkles and dull ageing skin. The treatment includes hand, arms and shoulder massage.
| | |
| --- | --- |
| Deluxe Microdermabrasion | From £45.00 |
Crystal Clear 'Back Shine' Treatment
Excellant for pimples, pigmentation and acne prone skin. Leaving the skin instantly looking smoother and brighter.
| | |
| --- | --- |
| Crystal Clear 'Back Shine' Treatment | From £25.00 |