Our Product Brand Range
---
Click on the links below for more details on the brands we use and sell:
Environ Skin Care
Advanced Nutrition Programme
Crystal Clear Skin Care
Wella
Sebastian Professional
High Definition Make Up
Jane Iredale Mineral Make Up

---
Environ Skin Care Range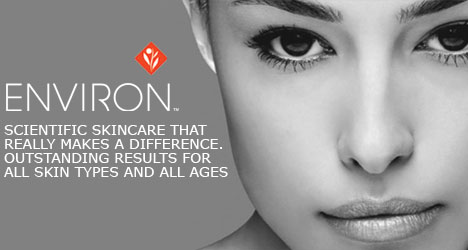 The cosmetic manufacturing company, Environ Skin Care (Pty) Ltd., was founded by Dr Fernandes in 1990 and he soon expanded its number of products into a full skin care range. Environ skin care products are manufactured under strictly controlled laboratory conditions at the Environ factory in Cape Town, South Africa.

The Environ skin care range was first formulated as a result of Dr Fernandes' misfortune when he attempted to treat the melanoma of two young, charismatic patients, who both died before they were twenty-three years old. Such a horrifying experience leaves an indelible scar on one's life as a doctor. For this reason, he started to study the mechanism of skin cancer and the skin - and thus Environ was born.

Since ancient times, mankind has attempted to make cosmetics to improve the skin and to hide the visible effects of ageing. The truth is that, for the most part, cosmetic creams remained simple old-fashioned moisturisers offering "Dreams of Youthful Skin" often without real results.

The introduction of vitamin A into the formulation of skin care products heralded a new era in the treatment of sun-damaged skin. Although some cosmetic houses were using very low doses of vitamin A in their skin care products in the 1980s, Dr Des Fernandes, a prominent Cape Town plastic surgeon, was the first person in the world to introduce vitamin A in high effective doses. This range established Environ as a leader in skin care.

The Company is a family run business and as such is one of the very few major skin care products that is manufactured and marketed by the same company. Founder, Dr Fernandes has specialised in the field of plastic surgery in which he has gained the respect of his international peers. After a long career in the commercial world, Dr Fernandes' sister, Val Carstens, joined her brother at Environ Skin Care (Pty) Ltd. as its CEO, bringing with her a wealth of business experience that she has used to engineer and build Environ into the company it is today.

Environ now has an extensive distribution network throughout South Africa and exports to more than sixty countries worldwide. For more detailed description of the Environ Products including the ingredients, please click here.

Beyond Beauty not only offers a wide range of Environ Skin Care products but also a number of treatment such as Environ Facials, Environ DF Ionzyme Machine Facial and Collegen Stimulation Therapy(CST).
---
Advanced Nutrition Programme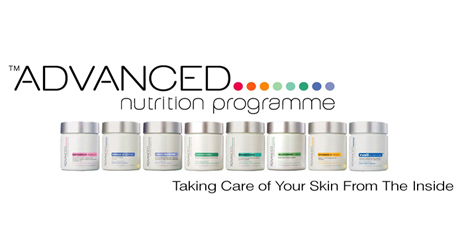 The Advanced Nutrition Programme™ is a premium range of supplements which support healthy skin and helps enhance your overall wellbeing. Their pharmaceutical and nutrition consultants select only the highest quality ingredients which your body can easily absorb. The quantity and quality of nutrients in these products are at levels which can really make a difference to your skin and overall wellbeing.

The Advanced Nutritional Programme™ are part of the International Institute for Anti-Ageing (iiaa). This leading skincare company that believes in feeding the skin from within with high quality supplements as well as applying proven, results-driven products topically. This inside-out approach leads to radiant, youthful skin.

With the Advanced Nutrition Programme™ you are guaranteed:
Quality Ingredients
Scientifically Researched Formulations
Feeding Skin From Within
Promoting Health and Vitality
Environmental Awareness
The Advanced Nutrition Programme™ is one of the highest quality supplement ranges you can buy and is only available at salons and skin clinics where the advisor is trained to give you advice on what would be best suited for you. This programme is more than just a range of supplements, it is a complete in-salon nutritional programme. The Advanced Nutrition Programme™ range consists of vitamins, antioxidants, minerals, fatty acids, phospholipids, herbal extracts, amino acids, bioflavinoids and co-factors that are needed to maintain healthy skin.

We at Beyond Beauty supply a wide spectrum of the The Advanced Nutrition Programme™ Range. For further information on each of products or a consultation please ring the salon.
---
Crystal Clear Skincare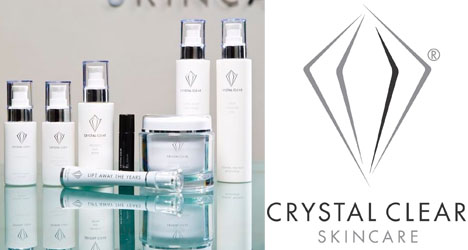 Sharon Hilditch, co-founder and CEO of Crystal Clear International gained her first qualification in Beauty Therapy when she was 17 years old. She started her first beauty salon a few years later. Even though she owned and ran a few beauty salons for a couple of years she was determined to learn more about skincare. So for a number of years working with some skin care experts and studying abroad she became determined to find a anti-aging alternative to surgery and painful laser treatments. Like many women, she was determined to find a gentler anti-ageing alternative. So then she took the next step in her career and launched Crystal Clear.

Crystal Clear has quickly established itself as one of the world's leading providers of hi-tech beauty treatments and skincare products.

Since its inception in 1995, Crystal Clear's success has been built upon its commitment to solving the important skincare issues that make such a difference to a persons life.

They are dedicated to innovating new treatments and products to solve your skincare needs: whether you suffer from acne, dry skin or simply need an extremely effective anti-ageing treatment or product

With a string of celebrity fans, this has reinforced its position as the celebrities' favourite beauty treatment.

Crystal Clear is a leading brand within the professional beauty industry, with a promise to deliver immediate, visible results.

At Beyond Beauty we offer a full range of Crystal Clear products suited for Acne Prone Skin, Anti Aging, Dull Dry Skin, Pigmentation and Problem Skin. We also provide Crystal Clear Treatments such as Crystal Clear Microdermabrasion and Crystal Clear Choices.
---
Wella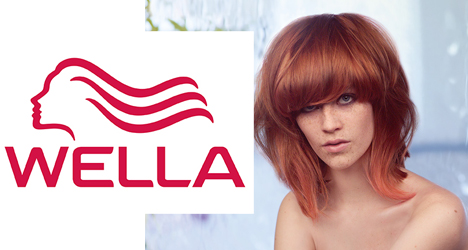 Wella Professionals has a strong heritage of outstanding leadership in the salon industry. For over 125 years, Wella Professionals has perfected the science and beauty of hair, working with scientists and colorists worldwide to drive innovation and inspiration for salon professionals. With extensive experience and a valued reputation worldwide, Wella Professionals redefines the standard in color and service. It does so with advancing technology that takes professional results to the next level with the passion and vision to deliver superior results that delight both stylists and their clients.

Wella's union of artistic creativity and breakthrough product technology inspires international trends. Wella's superior performance and expansive shade portfolio make it an indispensable brand in salons throughout the world.

Throughout the brand's history, it has earned its title as the global authority on hair color.
---
Sebastian Professional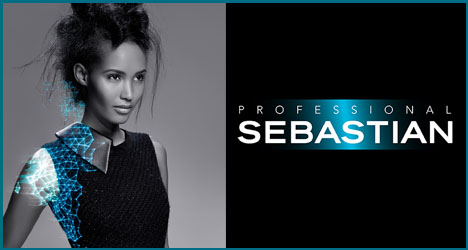 Sebastian was founded on the principle of fearlessness. LA stylist Geri Cusenza entered the 70s determined to push things further and take a generation from flower power to fearless hair fashion. Sebastian Professional has had a thirst for innovation and changing the game. Today is no different.

There is no limit to what you can create with Sebastian products. You can redefine, redesign and refine with their products. What is unique about Sebastion products is the formula. Their styling products always excel and perform beautifully. Regardless of your hair type, texture, or the style you want to create, Sebastian Professional has a product to meet all your hair needs.

Sebastian is the inventor of the following:


Crimping iron
First semi-permanent, ammonia-free hair colour: Laminates
First wet gel
First workable aerosol hairspray: Sebastian Shaper
First combined care and styling: Potion 9
At Beyond Beauty we not only use the Sebastian Professional range but you can also purchase those products to recreate the style at your home. You can view the Sebastian Professional product range here Sebastian Professional Products.
---
High Definition Make Up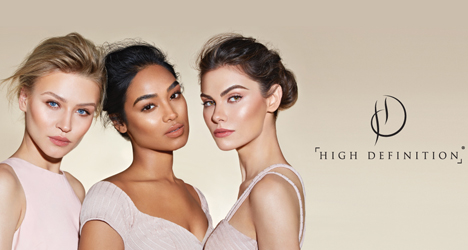 If your familiar with HD Brows then you will understand why this 76 strong capsule collection of brow, eye, skin and lip essentials is the perfect make up range to compliment your beautiful brows! Developed by HD Brows founder Nilam Holmes-Patel and celebrity make up artist Francesca Neill who's toured with Girls Aloud and is a veteran on tv shows like X Factor, Strictly and Britain's Got Talent, this make up is designed to make you look amazing.

"Creating naturally beautiful looks and a flawless finish is what I am known for amongst my celebrity clients. Right from the start, we knew we wanted to create a capsule collection of high-quality, must have products that could create this, with a series of shades that would suit anyone. With Nilam's brow expertise and my experience as a professional make-up artist, we really feel that we have created THE perfect range of brow, eye, skin and lip essentials that everyone can use"....Francesca Neill.


This collection features updated eye and brow palettes, with added wax, new product formulations and new packaging, along with nine shades of both liquid and powder bases, three powder blush shades, bronzer, six lip gloss shades and a selection of brushes. There is also three new eye-shadow palettes, each with five shades.


---
Jane Iredale Mineral Make Up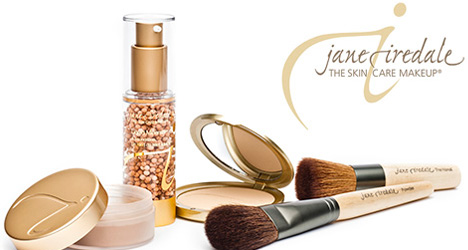 One of the most technically advanced make-up lines in the world. So effective it is:
recommended by plastic surgeons, dermatologists and skincare professionals and worn by celebraties such as Angelina Jolie, Danni Minogoue, Paris Hilton, Sandra Bullock, Julia Roberts, Vitoria Beckham and many more.
Minerals allow the skin to breathe and function normally, making them ideal for everyone but especially for those with problem skins. The way minerals interact with light allows them to create a soft focus effect without looking heavy or caked. Mineral cosmetics are non-irratating, feel weightless and last for longer than traditional make-up.

Jane Iredale mineral foundations provide flawless, 'barely there' coverage while promoting healthy skin. Popular with performers, celebraties and make-up artist.
The bases act as a four-in-one product: concealer, foundation, powder and sunscreen, with natural SPF 15-20. Fast, weightless, water-resistant coverage for all skin types - even the most sensitive or blemished complexions.
Free from dyes, perfumes and fillers
Bases have calming, anti-inflammatory properties with minimum allergy risk - making them ideal for acne and rosacea sufferers.
So gentle, that it can be applied immediately after facials, waxing, micro-dermabrasion and laser re-surfacing.
Jane Iredale mineral makeup is recommended by the skin cancer foundation
Acne/ problematic skin
These amazing products can reduce the risk of skin cancer from over exposure to sunlight. They are also an effective aid in the prevention of sun-induced damage to the skin including sunburn and premature aging.

The skin cancer foundation recommends Purepressed Base, Dream Tint, Lip Drink, Powder-Me SPF and Amazing Base as effective UV sunscreens.

Please ring in the salon for further details or to try the products out. You can view the various products we sell here Jane Iredale Skin Care Makeup Range