You are here: Products > Advanced Nutrition Programme > Advanced Nutritional Range > Metabolic Support
Metabolic Support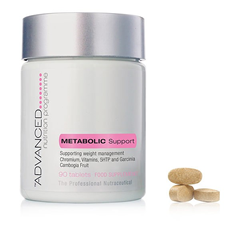 Designed for people trying to lose weight, Advanced Nutrition Programme Metabolic Support helps manage a healthy controlled diet and exercise plan. The ideal supplement to support a calorie controlled low GL diet.

Helping you manage your appetite, Advanced Nutrition Programme Metabolic Support uses important B vitamins to improve your body's production of energy from the food you eat. Niacin and chromium helps you manage your glucose tolerance factor which plays a big role in your body's natural management of fats and carbohydrates.

Indications for use:


Take three tablets daily: one first thing in the morning and two more between meals
Best taken on an empty stomach
Should not be used as a substitute for a varied and balanced diet
Suitable for vegetarians and vegans
Not suitable during pregnancy or if pregnancy is being planned
Do not exceed the recommended daily dose
Store in a cool, dry place out of reach of children


Ingredients

(Daily intake - 3 tablets): garcinia cambogia fruit 2250mg; 5-HTP 99mg; thiamine (vitamine B1) 37.5mg; riboflavin (vitamin B2) 37.5mg; niacin (vitamin B3) 50mg; vitamin B6 50mg; folic acid 400mcg; vitamin B12 15mcg; chromium 225mcg.




Price:
90 Tablets - Call in store for prices and consultation