You are here: Products > Environ > Focus CIT > Cosmetic Focus-CIT
Cosmetic Focus-CIT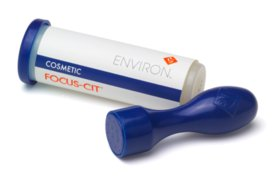 Environ's Focus-CIT is a small, hand-held needling device that allows you to focus on specific, traditionally difficult to reach areas, such the mouth and eye area. This device is designed to dramatically increase the effectiveness of Environ skin care products.

Indications for use:


Using the Cosmetic Focus-CIT lightly 'stamp' the targeted area, for approximately 3 minutes.
Apply recommended Environ moisturiser or treatment product after stamping.
If the skin feels sensitive after a treatment, do not repeat until the skin feels comfortable.
Start by stamping twice a week and slowly progress to daily treatments.
Use as part of your evening regime to ensure that sunscreen ingredients don't irritate the skin.
This product should be used on the upper and lower eyelids with caution.
Only to be used by those who have already acclimatised to AVST 2 or C-Quence 2.
The instrument can be cleaned with warm water after every treatment and with the Roll-CITTM Cleaning Solution once a week.
Sunburn Alert: This product does not contain a sunscreen. Use a broad spectrum sunscreen, wear protective clothing, and limit sun exposure while using this product.


Benefits of Use:


The creation of tiny micro-channels assists in improving the effectiveness of Environ products.


Price:
Call in store for prices and consultation