You are here: Products > Environ > Ionzyme Range > Ionzyme Focus Frown serum
Ionzyme Focus Frown serum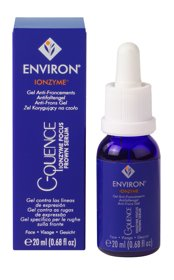 Ionzyme Focus Frown serum is a scientifically proven formula that, when applied to the targeted area, assists to smooth and soften frown lines. Frown lines become lighter, muscle tension reduces in the forehead area and deep lines become less prominent. When used in conjunction with AVST moisturisers, skin appears healthier and smoother.

Indications of Use:

Suitable for all skin types, especially skin showing fine lines and wrinkles. Suitable for all ages but recommended for mature skin types.

Benefits of Use:


Helps to give a relaced and softened appearance to fine lines and wrinkles
Peptides work in synergy to minimize deep frown lines


Improve your results significantly and use ionzyme focus frown serum in conjunction with the environ cosmetic focus CIT this break through, hand- held device assists to increase the penetration of topical, active ingredients, making them far more effective, with incredible visible results- giving you something to smile about.


Price:
20ml - Call in store for prices and consultation