You are here: Products > Environ > B-Active Range > B-Active Sebuprep
B-Active Sebuprep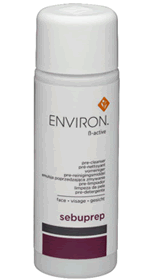 A deep, specific pre-cleanser that is the most important step in the control of breakouts. It helps to retain the natural oils of the skin while minimising excessive secretion of oils from the sebaceous glands, thereby removing the cause of breakouts. Contains mineral oil, tea tree oil and salicylic acid. The mineral oil reduces both blackheads and whiteheads.

Packaged in a 100ml PET plastic bottle that helps to protect the active ingredients from light. Shelf life - Twenty-four (24) months unopened.

Indications for use:

Recommended for use by those who have problem or oily skin.




Price:
100ml - Call in store for prices and consultation