You are here: Products > Crystal Clear > Acne Prone Skin > Crystal Clear - Defence Mask
Crystal Clear - Defence Mask
Problem Skin, Solved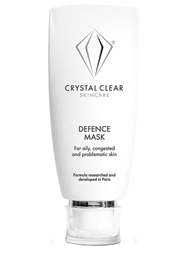 The perfect skin-saver for problematic skin that is oily, congested and spot-prone.

Defence Mask works in three ways:


Easy-to-use peel-off formula prevents the over production of sebumRemoves dead skin cells
Kills the bacteria that are associated with oily, congested skin by up to 90% within just one hour of application.
For clearer, brighter skin, use the mask twice a week by applying to cleansed skin for 15 minutes before peeling off.

See immediate benefits with this amazing skin care product.




Price:
100ml - £30.00