You are here: Products > Sebastian Professional > Foundation > Color Ignite Multi Shampoo
Color Ignite Multi Shampoo
Colour Protection For Multi Tonal And Light Hair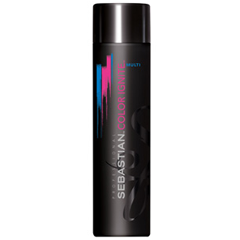 Color Ignite shampoo unleashing long lasting vibrancy in multi tonal and lightened hair. Smart colour moisture complex targets colour treated stands to deeply moisturize where needed most, while smart, whipped foam micro bubbles spread around even hair fibre, restructuring hairs condition for long lasting colour shine and vibrancy.


How to use:
Massage into wet hair to activate the gentle lather.
Rinse thoroughly and repeat if necessary.
For more colour protection follow with colour ignite multi conditioner.


Price:
Ask in salon for price