You are here: Products > Crystal Clear > Anti Ageing > Crystal Clear Reverse
Crystal Clear Reverse
Clinically Proven to Rejuvinate mature skin...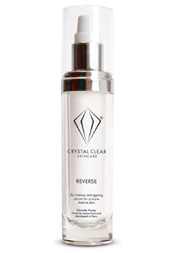 Turn back time with the product more and more women are turning to.

Crystal Clear Reverse (30ml) is a breakthrough in the treatment of mature, dry and sensitive skin, fighting the dramatic effects on the skin structure that normal skin care products simply can't deal with.

Regular use of Crystal Clear Reverse results in your skin looking and feeling younger, brighter smoother and firmer.




Price:
£45.00