You are here: Products > Environ > Intensive Range > Intensive Revival Masque
Intensive Revival Masque
face lift in bottle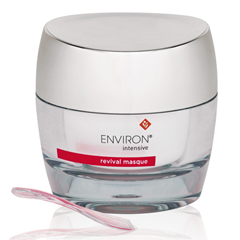 A preposterous idea comes to life:

"this was the first step in my mission to make a product that would be like a ' face lift in a bottle'. I know this is a preposterous idea, but I decided to pursue it."
....Dr Des Fernandes (leading aesthetic surgeon and founder of environ skincare)

Environ perfects the art of creating luminous skin with this ground breaking product a unique combination of asiatic, lactic and mandelic acids is scientifically proven to trigger growth factors which help to rejuvenate and revive skin, leading to a younger, fresher appearance.

The result of four years of research, the revolutionary revival masque is one of the most extensively trialled skincare products on the market. The potent formulation helps to address dryness, uneven skin tone and the signs of ageing for a revitalised, radiant complexion.


Power anti-ageing ingredients:
Lactic acid: helps to improve uneven skin tone and is a powerful promoter of natural skin hydration.
Asiatic acid: derived from centella and used for centuries in traditional healing, research shows that it stimulates growth factors which are important for skin regeneration.
Mandelic acid: has scientifically proven anti-ageing properties and may help to improve uneven skin tone.
Who is it for?
All skin types and skin tones
Suitable for first time users- clients do not have to be on vitamin A creams
Recommended for people with fine lines, uneven tone and texture, scarring, dryness and lax skin.
Recommended for existing vitamin A step- up cream users as part of their daily routine
The Cosmetic Roll-CIT is the perfect partner for your clients who want even greater efficacy from their anti-ageing skincare products. Advanced Environ users can needle for 3-5 mins before applying the NEW REVIVAL MASQUE.




Price:
Ring salon