You are here: Products > Jane Iredale > Make Up > Pommisst Spritz
Pommisst Spritz
must have moisture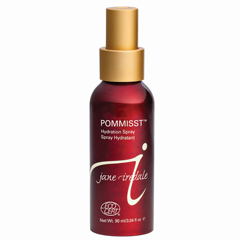 Just think what a spritz of Pommisst Hydration Spray and a layer of Jane Iredale's sun-protective minerals will do for your skin! Jane Iredale Pommisst Hydration Spray offers the added benefit of pomegranate extract, a powerful antioxidant and UV protector, also known to help protect against skin cancer.


How to use:
Lightly spray your face from about 12" away. Pat your face with your fingers to work moisture into the skin and to minimize fine lines and pores. Spritz the face when the skin feels dry or when exposed to drying atmosphere.
Use to set minerals and help to conceal pores and fine lines.
Use anywhere that the atmosphere is drying.
Use spritz as a moisturiser for oily skin.
Use to wet brushes to make liners.
Spray in your hair to control static!
Tips:
It's not a good idea to spray spring water on the face, because most spring waters contain chalk, which leaves a hard-to-remove white film on the skin.
Ingredients:
Water/Eau/Aqua, Pomegranate Extract, White Tea Leaf Extract, Sodium PCA, Radish Root Extract, Algae Extract, Rosemary Leaf Extract, Olive Leaf Extract, Grape Seed Extract.

Paraben free
Wheat-free
Vegan




Price:
Ring salon