You are here: Products > Advanced Nutrition Programme > Advanced Nutritional Range > Skin Accumax - Problematic Skin
Skin Accumax - Problematic Skin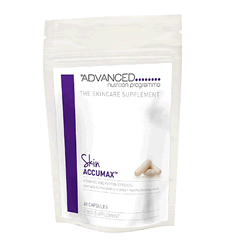 This groundbreaking natural product formlae adresses problematic skin.

Including vitamins A, C & E along with an active phytonutrient found in Brocolli, it is formulated in a unique method to achieve the best possible results.

Skin Accumax is a skincare supplement for all levels of problem skin. Unlike topical creams, this patent-pending formula works from within to restore natural radiance.




Price:
60 Capsules - Call in store for prices and consultation