You are here: Products > High Definition > High Definition Product Range > Browtec
Browtec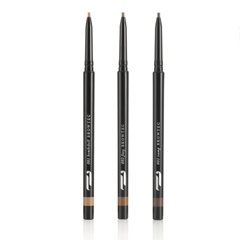 This ultra-slim, retractable twist-up brow pencil delivers precise application every time and is enriched with Vitamins C and E for added antioxidant benefits. The firm texture makes this brow pencil easy to control and apply, ensuring lines are clean and accurate.

With excellent colour coverage, the Browtec has a non-oily formula and contains a blend of waxes so application is easy and coverage is long lasting.


How to use:
Apply in small light strokes to mimic the appearance of brow hairs.
Apply lightly around the brow for a defined look.
Available in 3 shades:
001 Bombshell: perfect for fair hair and skin
002 Foxy: perfect for medium hair and skin
003 Vamp: perfect for dark hair and skin


Price:
£16.00