You are here: Products > Advanced Nutrition Programme > Advanced Nutritional Range > Joint Support
Joint Support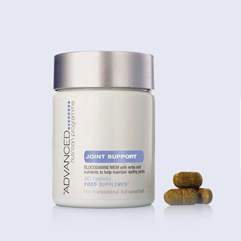 Designed for people who consider maintenance of supple flexible joints and muscles important, Advanced Nutrition Programme Joint Support is the perfect supplement for the elderly and heavy exercisers, providing optimum joint support.

Formulated with glucosamine, MSM and a carefully selected blend of herbs and nutrients Advanced Nutrition Programme Joint Support helps to maintain healthy and flexible joints. The key ingredients combine to form an important part of the structure of healthy cartilage, tendons and ligaments, plus additional muscle and bone nutrients like vitamin C and zinc.

Indications for use:


Take 1-4 tablets a day with meals, building gradually
Do not exceed the recommended daily dose
Not recommended if pregnant or taking warfarin
Should not be used as a substitute for a varied and balanced diet
Store in a cool, dry place out of reach of children


Ingredients

(one tablet): vitamin C 30mg; Zinc 5mg; copper 250mcg; boron 250mcg; methyl sulphonyl methane 450mg; glucosamine HCL 180mg; ginger root 75mg; nettle leaf 75mg; celery seed 75mg; panax ginseng 15mg; kelp 5mg.




Price:
90 Tablets - Call in store for prices and consultation