You are here: Products > Advanced Nutrition Programme > Advanced Nutritional Range > Skin Vitality 2
Skin Vitality 2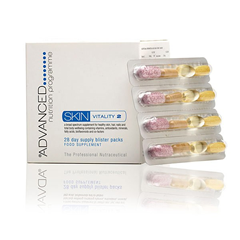 Advanced Nutrition Programme Skin Vitality 2 ensures adequate levels of nutrients to support a healthy mind and body. A broad spectrum supplement, it contains vitamins, antioxidants, minerals, fatty acids, herbal extracts, bioflavonoids and co-factors.

Advanced Nutrition Programme Skin Vitality 2 provides essential nutrients needed for healthy skin, hair and nails while acting as a base line dietary support vitality. The 28 day supply blister pack contains an A-Z multivitamin, vitamin C with zinc, bilberry and elderberry plant extracts, and advanced antioxidant nutrient complex and essential omegas 3 and 6.

Indications for use:


Take the contents of one blister strip daily with your main meal
Should not be used as a substitute for a varied and balanced diet
Do not exceed the recommended daily dose
Store in a cool, dry place out of reach of children


Ingredients

(4 tablets/capsules): vitamin C 1000mg; fish oil 726mg; calcium 199mg; borage oil 126mg; vitamin E 131 88mg; magnesium 78mg; black elderberry extract 50mg; pantothenic acid (vitamin B5) 25mg; niacin (vitamin B3) 25mg; glutathione 25mg; ginger 20mg; thiamine (vitamin B1) 12.5mg; riboflavin (vitamin B2); bilberry extract 10mg; choline 10mg; vitamin B6 10mg; inositol 10mg; resveratrol 10mg; zinc 8mg; iron 5mg; alpha lipoic acid 5mg; co-enzyme Q10 5mg; beta carotene 3.75mg; magnaese 1.3mg; boron 0.5mg; vitamin A 2500 i.u. 750mcg; folic acid 100mcg; selenium 40mcg; biotin 25mcg; copper 25mcg; vitamin K 20mcg; iodine 15mcg; molybdenum 15mcg; chromium 15mcg; vitamin D 300 i.u. 7.5mcg; vitamin B12 5mcg.




Price:
28 day supply blister packs - Call in store for prices and consultation