You are here: Products > Crystal Clear > Anti Ageing > Crystal Clear Revitalising Tonic
Crystal Clear Revitalising Tonic
Revitalising 'Wake Up Call' for Tired Skin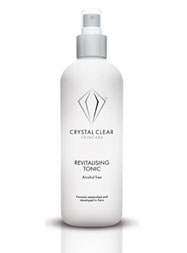 Crystal Clear Revitalising Tonic (200ml and 400ml) is suitable for all skin types especially dry, damaged, ageing and sensitive skin care.

Alcohol free, the gentle formula removes in-depth impurities and leaves the skin revitalised and energised due to the cucumber extract and marine oligo elements.

Revitilising Tonic maintains the natural moisture balance and helps enhance elasticity and freshness of the skin. Mineral salts and trace elements revitalise and rebalance the skin.

What are the Active Ingredients in Crystal Clear Revitalising Tonic?


Polycol moisturising complex (5%) - Limits the trans-epidermal water loss and helps cells retain water
Pectin, mineral salts, amino acids, enzymes
Vitamin C and Vitamin B - Emollient, soothing, moisturising
Oligoelement (0.3%)
Mineral salts, traces of elements from marine sediments, Zinc - increases the healing of wounds by acting on collagen metabolism
Cucumber extract (1%)
Suitable for all skin types, Crystal Clear skin care products are not tested on animals and do not contain genetically modified ingredients.


Price:
200ml - £20:00
400ml - £30:00