You are here: Products > Environ > Ionzyme Range > Ionzyme Focus Hydrating Serum
Ionzyme Focus Hydrating Serum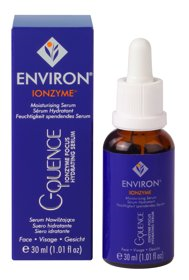 Ionzyme Focus Hydrating Serum is a revolutionary new treatment that intensely hydrates and adds volume to targeted skin areas, visibly reducing fine lines and treating dry, photodamaged skin. Our secret: hyaluronic acid used in high, effective doses.

Hyaluronic acid holds up to 1000 times its own weight in water, allowing it to replenish the skin's own natural levels, leaving skin feeling noticeably smoother, firmer and younger looking.

Indications for use:

Specifically formulated for those with dry skin, fine lines and photo damaged skin. Suitable for all ages and recommended for mature skin types.

Benefits of Use:


Moisturizes targeted areas
Helps plump the skin
Assists with reducing the look of lines and wrinkles
Hyaluronic acid in effective doses helps give visible results
Assists with hydration to give the appearance of smoother, firmer, younger looking skin


To be used in conjunction with the Environ Cosmetic Focus-CIT or Environ Cosmetic Roll-CIT. Within a few days from the first application, the skin will be noticeably more hydrated and feel plumped up.

You can boost your results significantly by using ionzyme focus hydrating serum in conjunction with the environ cosmetic focus CIT OR COSMETIC roll CIT this hand- held device assists to increase the penetration of topical, active ingredients, making them far more effective.

Yet another breakthrough development from environ, always at the forefront of innovative skincare.




Price:
30ml - Call in store for prices and consultation