You are here: Products > Crystal Clear > Gift Sets > Gift Set - Skincare Intro Pack - Pack of 5 Products
Gift Set - Skincare Intro Pack - Pack of 5 Products
Crystal Clear Skincare Introductory Travel Pack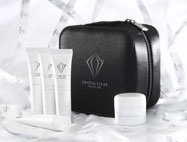 This new addition to our range is a great introduction to Crystal Clear Skincare. Cute, chic and stylish, the luxurious black satin bag is filled with a radiance boosting cream, anti-ageing serum, a silky body lotion, beautiful scrub and a great-smelling deep cleanser, all from the latest Crystal Clear Skincare collection.

The gift set includes:


Crystal Clear Illuminate (15ml) - skin radiance in a bottle
Crystal Clear Intense Anti-ageing Serum (15ml) -reduces wrinkles with the addition of Syn-ake
Crystal Clear Wipe away The Years (15ml) - anti ageing cleansing milk
Crystal Clear Crystal Polish (15ml) - for salon-smooth skin
Crystal Clear Velvet Skin (15ml) - a delicious anti-ageing serum for all over your body


Each product features the delicate, uplifting fragrance of an essential oil complex of sweet orange, geranium, santal and grapefruit.




Price:
£20.00